Water is an essential element in having a beautiful and thriving lawn or garden. If you do not have a built-in irrigation system, you more than likely will have to use hoses to power your sprinkler or spray nozzle. Like many tools, you have many options to choose from. Durability, length, weight, material, and the ability to avoid crimping are some of the attributes that we considered when ranking the best water hoses of 2020.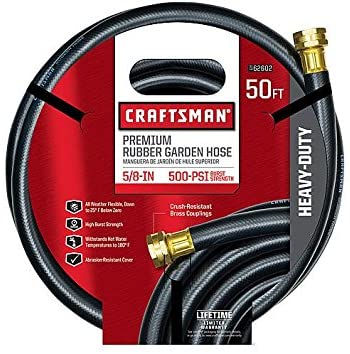 Craftsman's rubber is an excellent hose for lawn and garden use. Constructed entirely of radial rubber, it is incredibly durable and will not be damaged by rocks, sticks, or a rough concrete driveway. Another thing that we like about this water hose is the heavy-duty nickel-plated fittings. Guaranteed not to rust, the fittings seal tight every time, eliminating leaks and runoff.
Bosting a 5/8 of an inch diameter and thick outer walls, the Craftsman Premium Rubber Hose resists kinking and binding, especially when filled with water. The Craftsman hose is rated for use in temperatures of 160 degrees down to -25 degrees. So no matter where you live, you can always count on this hose to function correctly. The only negative about this hose is that its sturdy construction adds weight; 50 feet of hose weighs in at almost 10 pounds. Some users may find it hard to work with such a heavy hose.
Lightweight and compact most accurately describe Vieneci's expandable water hose. When not hooked up to a water source, the hose measures approximately 33 feet. After you turn the water on, it magically expands to 100 feet long. This is long enough for most homeowners and is why this hose ranks #2 on our list of best water hoses.
The inside of the hose is constructed of two layers of industrial-strength latex that grow as water pressure increases. The outside of the hose is woven with high strength 7350D polyester. Weighing 4.8 pounds for 100 feet of hose, Vieneci's hose is one of the market's lightest weight options. An expandable hose is perfect if storage space is tight. Also, it is great if you want a hose that is easy to hang when not in use. It is important to note that using a nozzle is suggested for this hose. This is so that it will allow the hose to inflate and build adequate water pressure. A 9 function spray nozzle, replacement gaskets, and a storage bag are all included with this product.
Weighing in at less than 8 pounds per 50 feet of hose, the Flexzilla Garden Hose is an excellent lightweight hose choice. Unlike other lightweight hoses, Flexzilla's garden hose maintains its round shape and does not flatten out when unpressurized. This decreases coiling and kinking. Constructed out of a high-tech hybrid polymer, the Flexzilla is highly durable and will last through years of outdoor storage and use. Also, the hose's construction allows it to bend and not bind or kink when inflated with water.
It is also important to note that the fittings are constructed out of aluminum. While aluminum is lightweight, brass is a more durable material. However, if crushing and excessive wear and tear are not present, aluminum will not be a problem.
This hose does not leach any chemicals into the water. Consequently, it is safe to drink from this hose.
Quick connect garden hose attachments make managing multiple hosed or faucets simple and easy. Connectors allow you to skip the hassle of threading your hose onto the tap or extensions. No more worrying about stripping the threading on your hose, or having to use pliers to detach a rusty, corroded hose coupling. Built for ¾ in diameter hoses, most common household units will work with these connectors. Using a hose in different areas of a yard or garden is a snap with Twinkle Star Quick Connectors.
(Visited 33 times, 1 visits today)